PaperSMS is a revolutionary product developed by Mindspace Software that allows you to send any document, including Word files, images, and PDF files, to your customers via SMS, and all of this comes at a fraction of the cost you currently spend on sending couriered documents to your customers.
The Telecom Regulatory Authority of India (TRAI), in its notification dated February 2023, declared that only two variables are allowed to be used in web-based transactional SMS. This was to curb the increasing menace of telemarketers who use variables to send promotional SMS. However, it has caused significant inconvenience to corporations and organizations that use web-based SMS to send genuine transactional and informational messages to their customers. There is now complete confusion regarding how companies, such as yours, can send reporting data, information related to dispatches, welcome letters, invoices, and files to their customers.
PaperSMS can assist your organization in sending any document to your customers in a matter of minutes, thus improving your customer service.
What is PaperSMS
We offer two modes of PaperSMS.

PaperSMS FILES
Simply upload the mobile numbers and drop the files to the portal. PaperSMS will do the rest.
Customized message template can be sent.
Either use PaperSMS SMS Header or your own brand's SMS Header.
Assured delivery reports.
Pay per use model. Pay for what you use.
Get delivery reports on the portal right away.
Can integrate with any third party software.
Easy to use and navigate app.
How PaperSMS works
Using PaperSMS is as easy as it gets.
Step 1.
Login to PaperSMS using your account.
Step 2.
Upload an excel sheet mobile number and file name to the portal.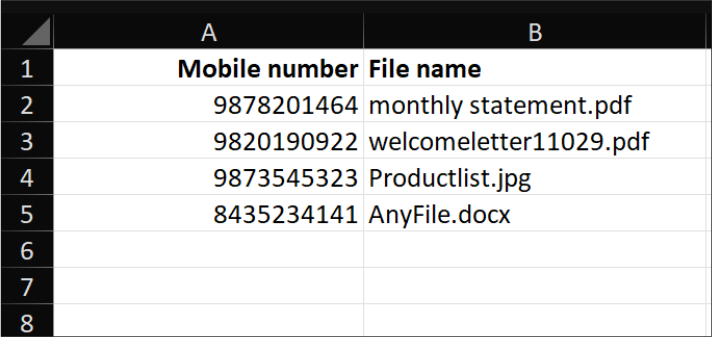 Step 3.
Drag and drop all files on the page to upload on the server.
Step 4.
Click Send.